Celebrating Death & Enacting Violence Will Do Nothing to Stop Police Brutality, It Will Get Worse
http://thefreethoughtproject.com/celebrating-death-enacting-violence-stop-police-brutality-worse/
Last week Americans witnessed the murder of two NYPD officers by a man claiming to be retaliating for the death of Eric Garner.
Ismaaiyl Abdullah Brinsley, 28, walked up behind two unsuspecting police officers, sitting in their patrol car and shot and killed them.
These apparently unprovoked attacks on individuals who were not directly involved in threatening the life of the shooter are a hindrance to the progression of liberty and police accountability.
Random acts of violence will only serve to undo what little progress those of us in the peaceful movement have accomplished and in fact will reverse it and prevent any future progress.
It is already happening.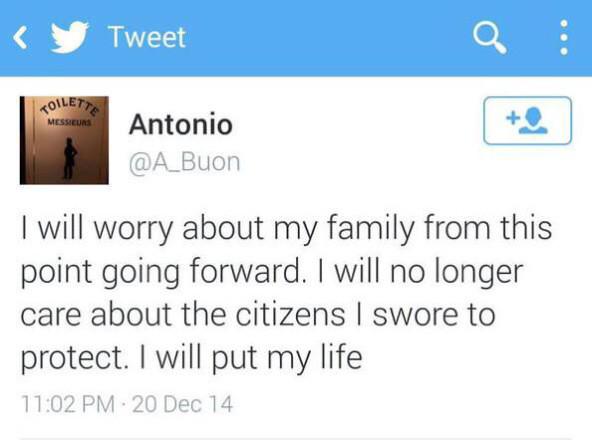 The New York Patrolmen's Benevolent Association has declared the NYPD will "become a 'wartime' police department and "will act accordingly" following the execution-style shooting of two of cops in Bedford-Stuyvesant.
Violently attacking the government creates victims out of the ones we are trying to expose as criminals.
Those who initiate and support such violence will be complicit in creating the hellish police state that will inevitably ensue as a consequence of their actions.
We can simply look back to 9-11 as an example of what is to come if this violence continues.
Prior to 9-11 the TSA did not exist, indefinite detention did not exist, the NSA did not spy on American citizens, the police weren't given armored assault vehicles, and Americans could not be assassinated without trial.
If these acts of aggressive violence against the state continue, we can expect to see what little civil liberties are left to be whisked away in the name of protection from the 'domestic terror threat.'
We can expect to see peaceful activists rounded up and detained indefinitely. We can expect to see homes raided of individuals who are speaking out against the state. We will see more and more checkpoints, and less and less unmolested travel.
If you think that the American people can somehow win in a war against the military industrial complex that the US has built up in the last decade and a half, you are seriously delusional.
Your AR-15 will do nothing against thermal imaging predator drones equipped with Raytheon's small tactical munitions designed for blowing up single homes. They will not stop the MRAP as it plows through your front door. No matter how you slice it, the most well-armed American citizen, is no match for the hundreds of billions spent annually by the US on warfare.
No, this battle will not be won with weaponry as the US spends more annually on defense than the next 13 largest militaries in the world, combined.
Also the above scenarios don't take into account the public's support. If a group of people rise up and claim to be freedom fighters and they do not have the support of the citizens, well, that "revolution," was over before it started.
If anyone thinks that killing cops and/or praising the death of innocent people, will amass public opinion in their favor, again, they are seriously delusional.
continued….
Read more at http://thefreethoughtproject.com/celebrating-death-enacting-violence-stop-police-brutality-worse/#9PvDYtzzP4BTkWyd.99